First, let me thank you for being such a loyal listener and fan of the Read to Lead Podcast. It means more to me than you know. Really!
You may recall that at about this time last year, I was in the midst of planning a spring launch of something called Read to Lead University.
Well, for reasons I won't detail here, RTLU was indefinitely shelved in 2016. At one point I wasn't sure if it would ever see the light of day.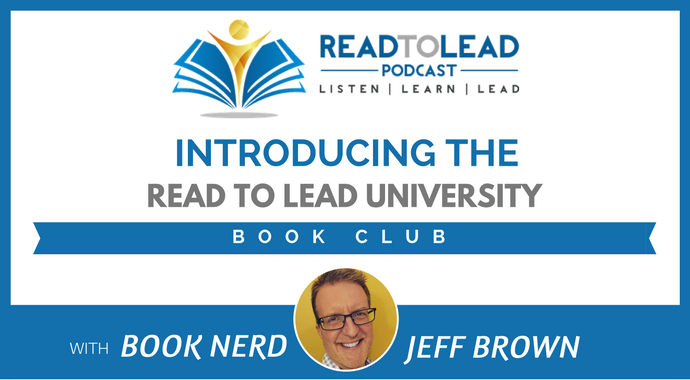 But now, I can confidently share that in two weeks, all that changes.
I'm reaching out to you today to ask if you'd like to be one of just 50 Charter Members of the all new Read to Lead University Book Club.
Before you answer, let me share just some of what you'll get with your Read to Lead University Book Club membership:
At the beginning of each month (starting in two weeks), I'll personally select a business/non-fiction book that you, as a member, and I will read together that month. Books chosen will center mostly around the areas of Leadership, Personal Growth, Productivity, and Career.
Near the end of each month, I'll host a members-only online video chat where you and I, along with other members, will talk through the book we've been reading, share our ideas, discuss ways others are applying the book's concepts, share success stories, any hurdles, and more.
About once per quarter (roughly 4 times per year), this members-only online video chat will include a visit from the author themselves! How cool is that? Personal coaching from your favorite authors!
Can't attend a chat live? No worries. A library of all past video book chats will always be available for as long as you're a member.
During the month, you'll also receive either a PDF, audio recording, or both, related to the book we're reading (things such favorite quotes, key takeaways, things you should consider implementing, etc.)
There'll be a group forum enabling you to discuss the book (or any book really) with your fellow members throughout the month, not just during the video chat.
Plus, I'll include occasional reading tools, tips and other book-related resources to help you on your learning and implementation journey.
Here's the deal…
I'm looking for 50 charter members, people who want to have a hand in helping shape this into something pretty special. Is that you?
In exchange for your initial feedback, you'll get access at the lowest price ever offered, AND have a say in the long term direction of the Book Club.
BUT WAIT!
I want to make this a risk-free, no-brainer decision for you.
Because you expressed an interest all those months ago, I'm offering you your first month for just $1 (and just $20/mo thereafter).
But only to the first 50 people who sign up! I wonder how many have signed up while you are reading this?
Though there's no content there now, that will change over the next two weeks as I announce our first three books (February through April) and begin preparations.
And, no matter what the cost of joining the Book Club is in the future (it will increase over time), your membership will never increase for as long as you're an active member.
All you need do is visit the website here:
===>> Read to Lead University Book Club
Click the Enroll button and you'll be prompted to set up an account. Then, you'll be walked through the payment process.
At checkout, simply use the code ONEDOLLAR for 95% off your first month!
I have no idea how long these 50 spots will last, especially at the $1 introductory price. But, when they're gone, they're gone. Literally! If you try to use the discount code and it doesn't work, it means the 50 spots are already taken!
I hope you'll join me in making 2017 an awesome year for both of us, and consider becoming one of just 50 charter members of the Read to Lead University Book Club!
See you on the inside!