I relish the opportunity to appear on other podcasts. 
I enjoy sharing from my personal experiences – warts and all – and would like to think there are valuable lessons in those stories for others.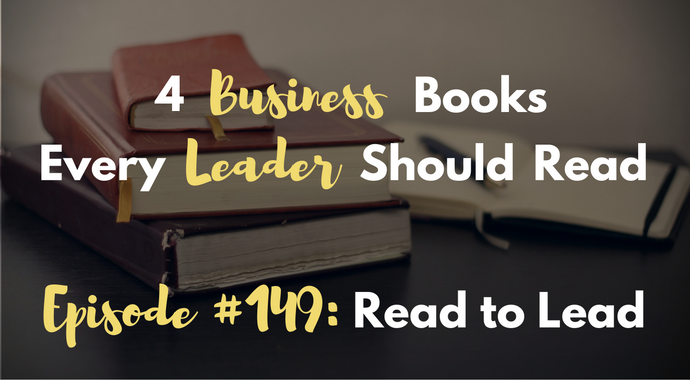 As you might imagine, a question I'm asked in virtually every interview I say "yes" to, centers around what books for leaders are at the top of my list?
To me, asking to choose among my favorite books is akin to asking a parent to name which child they love the most. Alas, I can honestly say there are at least four over the years – books, not children – that have truly stood out. These are ones I often refer back to often in my coaching and mentoring of others.
Today, I'm excited to bring you the 4 business books which, in my opinion, are books that every leader should read.
Join in on the chat below
Subscribe: iTunes | Stitcher | RSS

In No Particular Order
1. Leaders Eat Last: Why Some Teams Pull Together and Others Don't by Simon Sinek
I welcomed Simon onto the show back in Episode #043. In addition to Leaders Eat Last, I thoroughly enjoyed his book Start with Why.
2. Under New Management: How Leading Organizations are Upending Business as Usual by David Burkus
Among the entries here, David Burkus is the most recent guest to appear. He and I chatted about Under New Management in Episode #121.
3. Essentialism: The Disciplined Pursuit of Less by Greg McKeown
Greg's book has resonated with more leaders the last two years than just about any book I know. I had the pleasure of speaking with him about it just after the 1 year anniversary of the podcast. That was Episode #052.
4. Multipliers: How the Best Leaders Make Everyone Smarter by Liz Wiseman (with Greg McKeown)
I've had the pleasure of bringing Liz onto the show twice. More recently to discuss her book Rookie Smarts back in Episode #062. The first time though was to discuss one of my favorite all-time books. We dove into Multipliers way back in Episode #030.
For more on my thoughts on each of these books, click the play button (above or below). I pack it all in about 10 minutes.
Click to Tweet
To share about the Read to Lead Podcast on Twitter quickly and easily, just click the box below. Your tweet will automatically be populated with this copy:
Leave Us Your Feedback
Comment and Share
Please consider rating the podcast with 5 stars and leaving a one- or two-sentence review in iTunes or on Stitcher.  This helps tremendously in bringing the podcast to the attention of others. I am also mentioning the names of all who rate the podcast with 5 stars in future episodes.
We encourage you to join the Read to Lead Nation on Facebook.  It's a community of like-minded leaders and leader-to-be, as well as fans of the Read to Lead Podcast.
You can tell your friends on Twitter about your love of reading and our new podcast by simply clicking this link and sharing the tweet you'll find at the other end.
And, by all means, if you know someone you think would benefit, please spread the word by using the share buttons on this page.
Finally, thanks for listening and remember, "Leaders read and readers lead."