Though I don't read as much as some, it's safe to say I read more than most. Chance are, so do you. That's why you listen to a show like this one, after all.
I've presented around 50 books to you this past year and there are 5 that really stand out to me. These are the books that had the greatest impact on me, and the books I think are primed to help the most people with their message.
Click the image below to enter to win a copy of all five (ends December 31, 2015).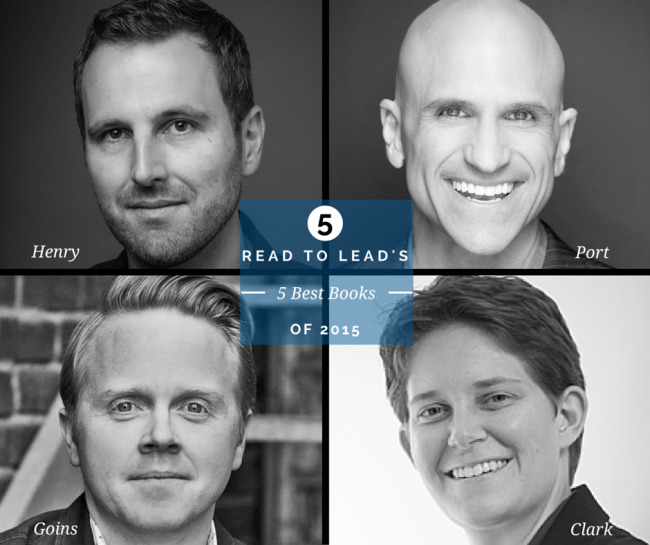 For the audio version, just click 'play' on the podcast player below. Short and sweet.
Though I originally intended to rank these, I found it was just too difficult for me to do so. I like each of them so well. You could say that these 5 books are tied for my #1 position for 2015.
In no particular order, here they are:
Stand Out: How to Find Your Breakthrough Idea and Build a Following Around It by Dorie Clark
Who's it for? Anyone looking to make their mark and, well, stand out. Not a book on self-promotion, but an opportunity to learn how to change your world for the better while giving yourself the ultimate job insurance.
Louder Than Words: Harness the Power of Your Authentic Voice by Todd Henry
Who's it for? Anyone who desires to get a handle on developing a compelling vision and becoming a master of expressing your ideas in whatever your chosen medium. Todd offers strategies, exercises, and true stories that illustrate the attributes of extremely resonant work.
The Art of Work: A Proven Path to Discover What Your Were Meant to Do by Jeff Goins
Who's it for? Anyone who is tired of the status quo and looking to live a life that matters (more on that topic too in the next book on the list). Jeff wants you to embrace the understanding of a vocation as more than a job, or even a career, but a as a passion-fueled calling that makes each day an exciting adventure.
Intentional Living: Living a Life That Matters by John Maxwell
Who's it for? Anyone who has previously felt that, in order to make a positive impact, you needed to be a certain age, have a lot of money, be famous, or have a big idea. John says none of those things are necessary for you to achieve significance or create a lasting legacy. The key to choosing a life that matters is being intentional. That's a word we'll revisit again and again in 2016.
Steal the Show: From Speeches, to Job Interviews, to Deal-Closing Pitches, How to Guarantee a Standing Ovation for All the Performances in Your Life by Michael Port
Who's it for? Why, anyone who wants to 'steal the show' of course! Michael says every interaction is a performance, whether speaking up in a meeting, pitching a client, or walking into a job interview. Michael draws on his decades of experience as a professional actor to show you how to make the most of every presentation and interaction.
Leave Us Your Feedback
Comment and Share
Please consider rating the podcast with 5 stars and leaving a one- or two-sentence review in iTunes or on Stitcher.  This helps tremendously in bringing the podcast to the attention of others. I am also mentioning the names of all who rate the podcast with 5 stars in future episodes.
We encourage you to join the Read to Lead Nation on Facebook.  It's a community of like-minded leaders and leader-to-be, as well as fans of the Read to Lead Podcast.
You can tell your friends on Twitter about your love of reading and our new podcast by simply clicking this link and sharing the tweet you'll find at the other end.
And, by all means, if you know someone you think would benefit, please spread the word by using the share buttons on this page.
Finally, thanks for listening and remember, "Leaders read and readers lead."