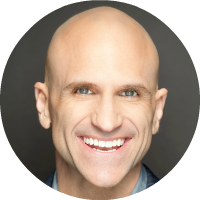 Whether you realize it or not, you are a performer.
That's right. We all are in fact. We're performing every day of our lives: at work, at home, online, at dinner, and in virtually every other scenario in which we find ourselves.
For most of us, we do it without thinking. We naturally play our various roles without a moment's thought toward our chameleon-like nature. It's not that we aren't being true to who we are. We just instinctively understand subconsciously that each of our roles requires us to emphasize different aspects of who we truly are.
So says Michael Port, today's guest on Read to Lead.
Michael takes on this topic and more in his new book, Steal the Show…from Speeches to Job Interviews to Deal-Closing Pitches: How to Guarantee a Standing Ovation for All the Performances in Your Life.
To join my conversation with Michael, simply hit the play button below.
Subscribe: iTunes | Stitcher | RSS

In today's episode, Michael and I discuss:
What it means to "find your voice" and how not fall into the trap of thinking you don't have enough to offer

How you can be chameleon-like and still be true to who you are at the same time, and WHY this ability is so important

How taking risks pays off and how discomfort can signal opportunity

And much more!
---
This Episode is Sponsored By the Folks at UpDesk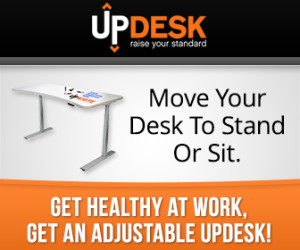 Read to Lead is supported by UpDesk, helping you "take a stand" for your health.
One of the smartest decisions I've made this year is investing in a motorized standup desk.
UpDesk will ship your desk free anywhere inside the contiguous US.
Go to ReadtoLeadPodcast.com/desk and find the one right for you. Get healthy at work!
---
Michael Port's Latest Book
You can order your copy of Steal the Show…from Speeches to Job Interviews to Deal-Closing Pitches: How to Guarantee a Standing Ovation for All the Performances in Your Life right now!
Scroll down for more info on how to secure over $1000 in bonuses from Michael!
Heroic Public Speaking
Don't Miss These Free Bonuses from Michael!
After you purchase your copy of Steal the Show here, head on over to the Steal the Show website. You'll find the instructions there for securing your bonuses from Michael!
Michael Port Resources
The best place to find out more about Michael is on his company website.
Here, you can pick up a copy of Michael's new book.
You might consider hiring Michael to speak at your next event or consult your company.
Connect with Michael on Twitter and on LinkedIn.
Click to Tweet
To quickly and easily share about the Read to Lead Podcast on Twitter, just click the link below. Your tweet will automatically be populated with this copy:
Learn the methods top actors use to connect with, inspire, and persuade any audience. via @MichaelPort | http://readtoleadpodcast.com/106
Leave Us Your Feedback
Comment and Share
Please consider rating the podcast with 5 stars and leaving a one- or two-sentence review in iTunes or on Stitcher.  This helps tremendously in bringing the podcast to the attention of others. I am also mentioning the names of all who rate the podcast with 5 stars in future episodes.
We encourage you to join the Read to Lead Nation on Facebook.  It's a community of like-minded leaders and leader-to-be, as well as fans of the Read to Lead Podcast.
You can tell your friends on Twitter about your love of reading and our new podcast by simply clicking this link and sharing the tweet you'll find at the other end.
And, by all means, if you know someone you think would benefit, please spread the word by using the share buttons on this page.
Finally, thanks for listening and remember, "Leaders read and readers lead."