If you believe that an unlimited life, an unstoppable business, and perpetual happiness are all part of the "impossible dream" you haven't met today's guest.
Ever since she was a little girl, Dixie Gillaspie's least favorite word was "can't." It still is, and she's on a mission to prove that anything is possible, for anyone.
Her first love is working with entrepreneurs as a coach, consultant, muse, and firestarter. She's good at seeing opportunities where other people see walls, navigating crossroads where other people see dead ends, and helping people connect their passion and purpose to create a powerful presence and increased profit.
Dixie is the author of Just Blow It Up: Firepower for Living an Unlimited Life, she contributes to Entrepreneur and Huffington Post and is a Senior Managing Editor for The Good Men Project.
To join our conversation, simply hit the play button below.
Subscribe: iTunes | Stitcher | RSS

In today's episode, Dixie and I discuss:
The idea that creativity is often educated out of us, and what to do about it

The belief that long-lasting positive results cannot be achieved with negative reinforcement

Dealing with the mindset of, "but I can't because…"

And much more!
---
This Episode is Sponsored By the Folks at UpDesk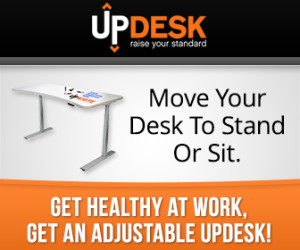 Read to Lead is supported by UpDesk, helping you "take a stand" for your health.
One of the smartest decisions I've made this year is investing in a motorized standup desk.
UpDesk will ship your desk free anywhere inside the contiguous US.
Go to ReadtoLeadPodcast.com/desk and find the one right for you. Get healthy at work!
---
Dixie Gillaspie's Latest Book
You can order your copy of Just Blow It Up: Firepower for Living an Unlimited Life right now!
The Just Blow It Up Book Trailer
Books Dixie Recommends
Supersurvivors: The Surprising Link Between Suffering and Success by David B. Feldman
The Go-Giver: A Little Story About a Powerful Business Idea by Bob Burg and John David Mann
Dixie Gillaspie Resources
The best place to find out more about Dixie is on her company website.
Here, you can pick up a copy of Dixie's new book.
You might consider hiring Dixie to speak at your next event or consult your company.
Connect with Dixie on Twitter and on LinkedIn.
Click to Tweet
To quickly and easily share about the Read to Lead Podcast on Twitter, just click the link below. Your tweet will automatically be populated with this copy:
Until you've said "I want it!" there's no point in asking, "How can I make it happen?" via @THEjeffbrown | http://readtoleadpodcast.com/103
Leave Us Your Feedback
Comment and Share
Please consider rating the podcast with 5 stars and leaving a one- or two-sentence review in iTunes or on Stitcher.  This helps tremendously in bringing the podcast to the attention of others. I am also mentioning the names of all who rate the podcast with 5 stars in future episodes.
We encourage you to join the Read to Lead Nation on Facebook.  It's a community of like-minded leaders and leader-to-be, as well as fans of the Read to Lead Podcast.
You can tell your friends on Twitter about your love of reading and our new podcast by simply clicking this link and sharing the tweet you'll find at the other end.
And, by all means, if you know someone you think would benefit, please spread the word by using the share buttons on this page.
Finally, thanks for listening and remember, "Leaders read and readers lead."