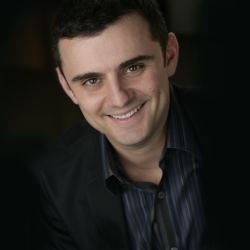 It's been a real treat to, in back-to-back weeks, feature two authors I've learned more from in the last five years than just about anyone else. Last week it was Chris Brogan. This week on the podcast it is my pleasure to welcome Gary Vaynerchuk into the hot seat.
Hear Our Conversation
[spp-player]
While Chris is all about sharing ways to help spread your message whether social media is involved or not, Gary's latest book, Jab, Jab, Jab, Right Hook: How to Tell Your Story in a Noisy Social World,
is all about the social media tools and how to use them well.
I believe you'll find it to be a great resource on understanding the psychology of various social media platforms and what makes each one unique. In fact, Gary argues understanding that concept and the others he lays out is key if you have any plans of succeeding on these platforms.
In Jab, Jab, Jab, Right Hook: How to Tell Your Story in a Noisy Social World Gary holds nothing back, and shows a lot of bravery by outing a number of major brands who are leisurely waltzing their way through their use of social media. Make no mistake, Gary is also sure to include numerous examples of brands and businesses who totally get it. For that reason, this new book is sure to be a valuable resource for years to come.
In my conversation with Gary Vaynerchuk, you'll learn:
How  each social media platform is unique and why you need to treat them as such
Why Gary had reservations about writing this book
How he feels about calling out in his new book a number of well-known brands to the carpet for doing a lousy job of leveraging social media platforms
Why many big brands continue to question the value of social media
Gary's picks for SuperBowl XLVIII
And much more!
Please Help Us Welcome The Snippet App as a Sponsor
We're really excited to welcome the Snippet App as a sponsor for this week's episode. The Snippet App is an awesomely dynamic ebook platform for iOS.

The Snippet App re-imagines the way we publish and read.
For writers, Snippet means no more waiting to get published or wondering what the best way is to capture and share stories, ideas and experiences.
For readers, Snippet means short, engaging, and beautiful reading. A Snippet's length and multimedia content grabs and holds the reader's attention to the end.
Amazing writers like Pat Flynn, Jeff Goins, Natalie Sisson, and Paul Jarvis choose Snippet.
Bottom-line: Snippet wants to fuel more reading in the world (sound familiar) by reducing barriers to entry, removing distractions, and promoting best-in-class storytelling.
To enjoy the Snippet reading experience, find the Snippet App in the App Store (iTunes link) and download the FREE reading app today. Learn more about Snippet at thesnippetapp.com.
Books Written by Gary
Pick up a copy of Jab, Jab, Jab, Right Hook: How to Tell Your Story in a Noisy Social World
 (affiliate link). Again, I believe you'll find this to be a great resource for you and your staff for several years to come.
I've read all of Gary's books. His last book was a New York Times bestseller called The Thank You Economy.
Gary's first-ever book put him and the path to stardom and was also a New York Times bestselling book. Pick up Crush It!: Why NOW Is the Time to Cash In on Your Passion. You'll be glad you did.
Platforms Gary is Watching Closely
Snapchat is high on Gary's list and covered in his new book.
Not covered in his book but mentioned in this episode are Wanelo and Medium.
Connecting with Gary
If you enjoyed this episode, let Gary know by sending him a tweet to @GaryVee
You can find Gary on the web at GaryVaynerchuk.com and vaynermedia.com. There's also a special site set up just for the new book.
An Intro to #JJJRH
Please consider rating the podcast with 5 stars and leaving a one- or two-sentence review in iTunes.  This helps tremendously in bringing the podcast to the attention of others. I am mentioning the names of all who rate the podcast with 5 stars in future episodes.
We encourage you to join the Read to Lead Nation on Facebook.  It's a community of like-minded leaders and leader-to-be, as well as fans of the Read to Lead Podcast.
You can tell your friends on Twitter about your love of reading and our new podcast by simply clicking this link and sharing the tweet you'll find at the other end.
And, by all means, if you know someone you think would benefit, please spread the word by using the share buttons below and up top.
Finally, thanks for listening and remember, "Leaders read and readers lead."
Hear Our Conversation Now
[spp-player]