Todd Henry has managed no small feat: He's written one of my favorite books of the year. Since I read about a book a week – and we're now nearly into November – that's saying a lot.
Hear Our Conversation
Podcast: Play in new window | Download
Subscribe: Apple Podcasts | Android | RSS
Since 2005, Todd has hosted the hugely successful Accidental Creative podcast and is author of a book by the same name, published just over two years ago.
Just last month, he released his brand new book Die Empty: Unleash Your Best Work Every Day. Seth Godin and I agree. It's one of the best books so far this year.
From Die Empty:
"Embrace the importance of now and refuse to allow the lull of comfort, fear, familiarity, and ego to prevent you from taking action on your ambitions. The cost of inaction is vast. Don't go to your grave with your best work inside of you. Choose to Die Empty."
In this episode, Todd explains:
The process of adopting a mindset of Urgent Diligence
The three kinds of work: Mapping, Making and Meshing and what happens when they all come together
The Seven Sins of Mediocrity and how to overcome them
The importance of Daily Checkpoints and their impact on your efficiency
What Todd means by, "Stop trying to be great. Just be great."
And much more!
Books by Todd Henry
For a complete list of Todd's books, check out this list of books by Todd Henry.
You Might Say I Marked This One Up a Bit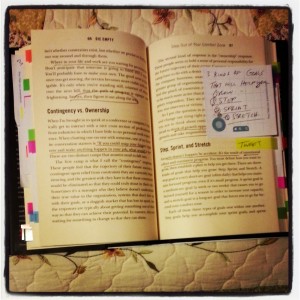 Connecting with Todd
If you enjoyed this episode, let Todd know by sending him a tweet to @ToddHenry
You can find Todd on the web at ToddHenry.com
Hire Todd to Fire Up the Troops
Todd has spoken internationally to tens of thousands of people across dozens of industries about productivity, creativity, passion for work, leadership, and how to unleash everyday brilliance. Find out more about how to bring him to your event.
Todd in Action
Books Todd Recommends
Born Standing Up: A Comic's Life by Steve Martin
So Good They Can't Ignore You: Why Skills Trump Passion in the Quest for Work You Love by Cal Newport
The Innovator's Dilemma: When New Technologies Cause Great Firms to Fail by Clayton Christensen
The Accidental Creative Podcast
Since 2005, Todd has hosted the Accidental Creative podcast, consistently a top 10 Business and top 5 Career podcast in iTunes.
Comment and Share
Be sure to leave your comments and ask any questions by simply scrolling down to the bottom of this page.  We would love to hear from you and welcome your feedback.
Please consider rating the podcast with 5 stars and leaving a one- or two-sentence review in iTunes.  This helps tremendously in bringing the podcast to the attention of others. I am mentioning the names of all who rate the podcast with 5 stars in future episodes.

We encourage you to join the Read to Lead Nation on Facebook.  It's a community of like-minded leaders and leader-to-be, as well as fans of the Read to Lead Podcast.
You can tell your friends on Twitter about your love of reading and our new podcast by simply clicking this link and sharing the tweet you'll find at the other end.
And, by all means, if you know someone you think would benefit, please spread the word by using the share buttons below and up top.
Finally, thanks for listening and remember, "Leaders read and readers lead."