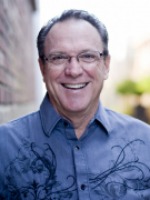 Comedian, author and professional speaker, Ken Davis, has been training others in the art of dynamic communication for 30 years.
In his book Secrets of Dynamic Communications: Prepare with Focus, Deliver with Clarity, Speak with Power
, Ken packs all this experience and training into 150 pages. I found Ken's lesson on the two kinds of speeches (Enabling and Persuasive) worth the price of the book alone.
Listen Now
It's Not About You!
Ken's book really helped me put my finger on what has been a hang up for me for several years. It's not about me. When we approach a public talk concerned about what others will think of us, whether or not we'll fill the time allotted, or other me-focused issues, we miss the point completely. The focus of any public talk you deliver should be about what you are going to give your audience, not what they are going to give you.
In today's episode, Ken shares with us how to:
Prepare a speech with laser-like focus
Capture and hold the attention of any audience
Banish the fear of speaking
Make your presentations unforgettable
Utilize tension to keep an audience's attention
Differentiate between the traditional method and the SCORRE method
And a lot more
*SPONSOR* Looking for a cost-effective mobile app solution? *SPONSOR*
Then check out our sponsor, Brown Knows Media. They specialize in mobile apps and websites specifically for small- to medium-sized businesses. If  you desire to add a mobile app to your business's mobile marketing strategy but assumed it was too expensive, then wait no more. For just $99/mo and a one-time setup and design fee of $1299, your business can have its own, cutomized mobile app. This month only, mention the Read to Lead Podcast and receive a $200 discount on the cost of your setup and design fee (making it just $1099)!
Ken Davis in Action
Books by Ken Davis
For a complete list of Ken's books, check out this list of books by Ken Davis.
Connecting with Ken
If you enjoyed this episode, let Ken know by sending him a tweet to @KenDavisLive
You can find Ken on the web at KenDavis.com
Conferences produced by Dynamic Communicators International
Books Ken Recommends
The teachings of James H. Jowett on public speaking
The Works of C.S. Lewis
The Public Speaker Podcast
I had the pleasure of joining Lisa B. Marshall on the latest episode (#223) of The Public Speaker podcast as her co-host. I was able to share some of the lessons I've learned in 26 years as a broadcaster on how to more effectively engage with your audience.
Be the Moon and Not the Sun
I make reference to my former talent coach Tommy Kramer's illustration on communicating in a way that is meaningful to your audience.
Dan Miller Quote
I also reference something Dan Miller said in episode #001 of the Read to Lead Podcast: "If it ever becomes clear that I've stopped learning, dig a hole and push me in because I'm of no use to anybody."
Comment and Share
Be sure to leave your comments and ask any questions by simply scrolling down to the bottom of this page.  We would love to hear from you and welcome your feedback.
Please consider rating the podcast with 5 stars and leaving a one- or two-sentence review in iTunes.  This helps tremendously in bringing the podcast to the attention of others. I am mentioning the names of all who rate the podcast with 5 stars in future episodes.

We encourage you to join the Read to Lead Nation on Facebook.  It's a community of like-minded leaders and leader-to-be, as well as fans of the Read to Lead Podcast.
You can tell your friends on Twitter about your love of reading and our new podcast by simply clicking this link and sharing the tweet you'll find at the other end.
And, by all means, if you know someone you think would benefit, please spread the word by using the share buttons below and up top.
Finally, thanks for listening and remember, "Leaders read and readers lead."
Listen Now