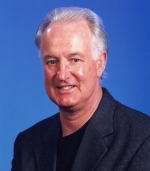 Not only is Pat Williams the author of over 60 books, but he's the founder and senior vice president of the Orlando Magic.
He has more than 50 years of professional sports experience and is one of America's most sought-after motivational speakers.
In his latest book, Difference You Make, The: Changing Your World through the Impact of Your Influence
 he introduces us to a number of people who are changing their world by leveraging their influence.
Listen Now
The stories in this book will inspire you. And, if you're anything like me, you're likely to shed a tear or two (and that's a good thing).
In today's episode, Pat will share with us:
His battle with cancer that begin in 2011 and where  he stands today
How many of us grossly underestimate the level of influence we have
The three forms of influence and how to leverage them
The qualities of good character and how we respond to things like temptation and critcism
The fallacy of the phrase "Actions speak louder than words"
And much more
*SPONSOR*  Do You Need a Mobile App or Website for Your Small Business?
Then check out our sponsor, Brown Knows Media. They specialize in mobile apps and websites specifically for small- to medium-sized businesses. If your website is in bad need of a refresh, or you're tired of having to depend on someone not a part of your business anytime you want to make updates, then it's time you gave Brown Knows Media a call. They'll not only build you a great site, but they'll give you the tools you need to make the changes and additions you want to make, when you want to make them. Contact Brown Knows Media today to find out how they can help set your site free. And, be sure and ask them about their special small business mobile app offerings.
Pat in Action
Pat's Leadership Poem
Asked about the single greatest leadership lesson he'd learned, Pat responded with this poem:
Seven things one must do
To be a leader right and true
Have vision that is strong and clear
Communicate so they can hear
Have people skills based in love
And character that's far above
The competence to solve and teach
And boldness that  has fearless reach
A serving heart that stands close by
To help, assist and edify 
Pat's Reading-Related Quotes
Pat shared some of his favorite quotes from several of our forefathers on their love of reading
"From candlelight to early bedtime, I read. I cannot live without books." Thomas Jefferson
"I have been imprudent. I have spent an estate in books." John Adams
"From a child I was fond of reading, and all the little money that came into my hands was ever laid out in books." Benjamin Franklin
Books by Pat Willams
For a complete list of Pat's books, check out this list of books by Pat Williams
.
Connecting with Pat
If you enjoyed this episode, let Pat know by sending him a tweet to @OrlandoMagicPat
You can find Pat on the web at PatWilliams.com
Books Pat Recommends
Wilson
by Scott Berg (a book on president Woodrow Wilson)
The Last Cowboy: A Life of Tom Landry
by Mark Ribowsky
The One-Day Contract: How to Add Value to Every Minute of Your Life
 by Rick Patino
Comment and Share
Be sure to leave your comments and ask any questions by simply scrolling down to the bottom of this page.  We would love to hear from you and welcome your feedback.
Please consider rating the podcast with 5 stars and leaving a one- or two-sentence review in iTunes.  This helps tremendously in bringing the podcast to the attention of others. I am mentioning the names of all who rate the podcast with 5 stars in future episodes.

We encourage you to join the Read to Lead Nation on Facebook.  It's a community of like-minded leaders and leader-to-be, as well as fans of the Read to Lead Podcast.
You can tell your friends on Twitter about your love of reading and our new podcast by simply clicking this link and sharing the tweet you'll find at the other end.
And, by all means, if you know someone you think would benefit, please spread the word by using the share buttons below and up top.
Finally, thanks for listening and remember, "Leaders read and readers lead."