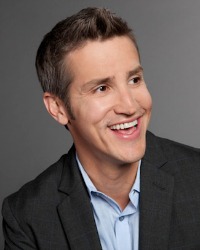 Jon Acuff is on my short list of those who helped inspire this podcast. At least now you know who to blame.
Coincidentally, my MasterMind group just finished reading through Jon's latest book Start: Punch Fear in the Face, Escape Average and Do Work that Matters
. In it Jon posits that, today, there are only two paths in life: average and awesome.
The former is easy and requires nothing. The latter is more challenging because, among other things, it brings out the haters in droves.
Listen Now
Start
will give you practical and actionable insights into how to be more awesome more often.
In today's episode, Jon helps us understand:
Why 99% of us are content with living an average life and what that means for those who desire to be in the 1%
The difference between finding your purpose and living with purpose
How to deal with the voices of doubt (both real and imagined) and punch fear in the face
Why being selfish with your time first thing in the morning is so important to your success
What it means to "play for the size of your heart and not the size of your audience."
The dangers of comparing your progress with others
And a lot more!
SIDE NOTE – Save $200 on Your Road Trip 2013 Conference Registration!
We're so grateful to the folks at the Road Trip Conference who have elected to offer you $200 off your registration just for listening to the Read to Lead Podcast.  Simply head over to the Road Trip Conference website and use my name 'jeffbrown' as your promo code. You'll automatically save $200 on any tickets you purchase.
Resources
No More Voices, a community site by Jon Acuff designed to help you punch fear in the face!
It wouldn't be right not to mention Jon's employer, the venerable Dave Ramsey
Connecting with Jon
If you enjoyed today's episode, let Jon know by sending him a tweet to @JonAcuff
You can find Jon on the web at jonacuff.com
You can order Jon's new book Start: Punch Fear in the Face, Escape Average and Do Work that Matters
through Amazon.
Books Jon Recommends
Ordering Your Private World
 by Gordon MacDonald
The War of Art: Break Through the Blocks and Win Your Inner Creative Battles
 by Steven Pressfield.
Comment and Share
Be sure to leave your comments and ask any questions by simply scrolling down to the bottom of this page.  We would love to hear from you and welcome your feedback.
Please consider rating the podcast with 5 stars and leaving a one- or two-sentence review in iTunes.  This helps tremendously in bringing the podcast to the attention of others. I am mentioning the names of all who rate the podcast with 5 stars in future episodes.

We encourage you to join the Read to Lead Nation on Facebook.  It's a community of like-minded leaders and leader-to-be, as well as fans of the Read to Lead Podcast.
You can tell your friends on Twitter about your love of reading and our new podcast by simply clicking this link and sharing the tweet you'll find at the other end.
And, by all means, if you know someone you think would benefit, please spread the word by using the share buttons below and up top.
Finally, thanks for listening and, remember, "Leaders read and readers lead."