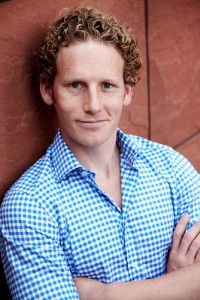 Jonah Berger is a business writer and professor of marketing at the University of Pennsylvania's Wharton School of Business. He is the author of the New York Times best-selling book Contagious: Why Things Catch On
, and you and I get to learn from him this week.
Click to Listen
[spp-player]
In this episode, Jonah lays out the six STEPPS to helping your idea, product or service catch on.
Follow these key STEPPS to craft contagious content:
Social Currency – People care how they look to others. Make them feel like insiders
Triggers – Top-of-mind means tip-of-tongue
Emotion – When we care, we share
Public – The more public something is, the more likely people will imitate it
Practical Value – News you can use. Useful things get shared
Stories – Stories are vessels, so build a Trojan Horse
Jonah's Greatest Leadership Lesson Learned
Jonah says, "Don't follow the crowd." It's easy to get caught up in the marketing hype and shiny new social media "toys." It's important to remember that the tools are nothing more than technology. They are not a strategy.
Jonah's Book Recommendation
Made to Stick: Why Some Ideas Survive and Others Die
Where to connect with Jonah
You can tweet him and let him know what you thought of today's conversation at @j1berger
At Jonah's website, you'll find a workbook, the Contagious framework that outlines the 6 STEPPS we talked about, as well as a Reading Guide that you mind find quite helpful, especially if you're reading it in a group (your team at work, a book club or MasterMind group, etc.)
Comment and Share
Be sure to leave your comments and ask any questions by simply scrolling down to the bottom of this page.  We would love to hear from you and welcome your feedback.
Please consider rating the podcast with 5 stars and leaving a one- or two-sentence review in iTunes.  This helps tremendously in bringing the podcast to the attention of others. I am mentioning the names of all who rate the podcast with 5 stars in future episodes.

Join the Read to Lead Nation on Facebook.  It's a community of like-minded leaders and leader-to-be, as well as fans of the Read to Lead Podcast.
You can tell your friends on Twitter about your love of reading and our new podcast by simply clicking this link and sharing the tweet you'll find at the other end.
And, by all means, if you know someone you think would benefit, please spread the word by using the share buttons below and up top.
Finally, thanks for listening and, remember, "Leaders read and readers lead."
[spp-player]