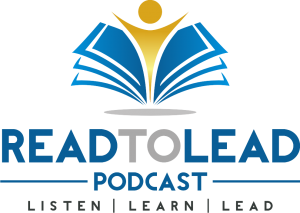 It's finally here!  The Read to Lead Podcast has launched. Thanks for taking an interest in this project.
This initial episode is intended to acclimate you to what can be expected week in and week out. Because of that, it will be short (about 7 1/2 minutes). Most of the episodes I've recorded so far are in the 35 minute range.  To listen to the introductory episode, just click the play button below.
Click to Listen
There'll be a new episode each Tuesday. However, at launch, you have access to the first three episodes in addition to this introduction. Those include conversations with New York Times best-selling author Dan Miller, author Robert D. Smith and author and podcaster John Lee Dumas (Entrepreneur on Fire).
Below, I've included a transcript for this episode. I don't intend to do that going forward necessarily, but since I scripted the majority of what I intended to share with you in this introductory episode, I figured I may as well go ahead and include it here in case you'd like to follow along.  Each episode will have its own, dedicates Show Notes page just like this one.
Unlike this episode where I'm without a guest, future episodes will include links to various resources and websites mentioned that you may want to refer back to.  In other words, there'll never be a need to write anything down.  Simply go to http://readtoleadpodcast.com/episodenumber where the episode number is 000, 001, 002, etc., depending on the episode you wanted to follow up on.  Literally all you'll need to remember is that 3-digit episode number.  As long as you remember that, you'll always be able to find what you're looking for.
Finally, I want to point out some important links I'd like you to be aware of.
I would consider it a personal favor if you would rate and review the podcast. This is critical in the early life of a podcast in helping it spread and get noticed amidst all the clutter. To rate and review the show, simply click this iTunes link. If you rate it with 5 stars, I'll be mentioning you in a future episode.
You can also tweet about the podcast and share it with your friends. I've made it easy by creating the tweet for you in advance. To share about the podcast on Twitter, just click this Twitter link.
Read to Lead Podcast – Episode #000 Transcript
[spp-player]
Thank you so much for joining me.  I'm so glad you're here.  Your first question is likely something along the lines of "What is this Podcast about? Well, for starters, this podcast is based on the belief that intentional and consistent reading is key to success in business and in life.
If you love to read, particularly nonfiction, and you understand and appreciate the benefits that come with doing so, then this is the podcast for you.  One of my goals is to help you find the best-of-the-best in today's non-fiction.  Like you heard in the intro – to narrow that ever-important reading list, because we're all very busy.  But more than that, you and I together get to sit down and chat with a new author each week, people I believe to be some of the brightest minds among us today.
Think about it…virtually everyone we'll hear from on this journey charges several hundred or even several thousand dollars for an hour of consulting time.  But you and I get 30 minutes of their time for FREE!  I hope you understand just how valuable that really is!
Now, if you're not currently reading a great deal, but you're here because you desire to do more of it or feel you should be doing more – maybe yoo u're having difficulty squeezing in the time for it or whatever – then let this podcast serve as an encour  agement to you as you make that journey.
If that IS you, I hope that listening to this podcast can spur you on to finding more time to devote to reading, but if that doesn't happen, that's okay too.  You'll find no judgement here.
In other words, if you're looking for an audio version of Cliff's Notes and the Read to Lead Podcast can fill that gap, that's fine by me.  In fact, be sure to stick around to the end of this episode, for more resources along those lines.
Either way, at the end of each episode, you will know definitively whether or not a book is for you and, even if you determine it isn't, I think it's safe to say you'll have learned something new along the way just for having listened.
Okay, that's a little about what the podcast is.  Now, what the podcast isn't.
It isn't is a book review podcast.  There are more than enough of those in iTunes already.  You can assume that I'm not going to waste your time with a less than stellar author…at least in my view.  All my guests will be authors of what I consider to be 5-star books.  Again, I'm doing the vetting for you, hopefully saving you valuable time in the end.
As promised, I'd like to share a couple of resources you may find useful on this journey. One you've likely heard of, the other one you probably haven't heard of.
I've been a user of Audible.com for about 3 years now.  I have to say I was resistant at first.  I didn't think I could "listen" to a business book and retain anything I was reading.  Now, I will say it took me training myself first – mind would wander – learned to pause as that would happen first – then come back to the book.
I hope to develop an affiliate or advertising relationship with Audible down the road – maybe even saving you money in the process – but we're not there just yet.  Either way, it is a product I believe in.  This and podcasts are a fantastic way to take your daily commute, or run or workout, and turn it into an awesome time of learning and productivity.
The other resource is one I just recently discovered.  It's called getAbstract.  getAbstract produces 5-page book summaries for just about every new business book that comes out.  They even do audio versions (about 8 to 10 minutes long) of these summaries.  With an annual membership you can get access to dozens of new book summaries every single month.
I do have an affiliate relationship with getAbstract, however, it doesn't cost you anything extra. Think of it as a way to cast your vote for this podcast with the folks at getAbstract, letting them know that you appreciate their support and involvement with the show.  To check out all they have to offer, just go to readtoleadpodcast.com/summary.  That's readtoleadpodcast.com/summary.
If you enjoy the podcast, I would be grateful if you could rate it in iTunes and leave a one or two sentence review.  This will increase the likelihood of the podcast getting noticed by folks like you who appreciate this kind of content.  To rate and review the podcast, just go to readtoleadpodcast.com/iTunes.  That's readtoleadpodcast.com/iTunes.
Another way to get involved and stay in the know is by liking our Facebook page.  Just go to readtoleadpodcast.com/facebook.  That's readtoleadpodcast.com/facebook.
Should you desire to share your discovery of this Podcast with others, that's easy as well.  To share a Tweet already written out for you, simply go to readtoleadpodcast.com/twitter.  That's readtoleadpodcast.com/twitter.
On the home page, I invite you to enter your e-mail address and first name to be added to the Read to Lead Newsletter list.   Currently, I plan to send an e-mail only about once week, typically to fill you in on what's coming up.
Thanks for listening and remember, "Leaders read and readers lead."