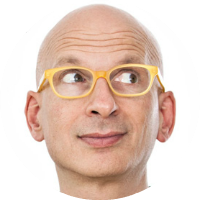 This is an encore and ad-free presentation of my conversation with Seth Godin, originally released in January 2015.
It has been edited since its original publication and is better than ever. If you've never heard it, you must. But even if you have, I think you'll agree it's worthy of a repeat listen. Not because of me, but because of Seth.
Since Seth and I first talked, he blogged about similar topics and even linked to Read to Lead in his post. Uh, yeah, I was thrilled to say the least.
If you don't know his work, Seth is the author of 18 bestsellers that have been translated into 35 languages. His latest is What to do When it's Your Turn (and it's Always Your Turn). He's the founder of several companies, a member of the Direct Marketing Hall of Fame and an influential speaker around the world.
He writes about treating people with respect, the changing economy and ideas that spread. Mostly, he creates projects, many of which end up failing.
Join in on our chat below
Subscribe: iTunes | Stitcher | RSS
In today's episode, Seth will share how to:
Overcome resistance to change
Resolve often knowing you can with not always believing you can
Handle criticism of your work
And much more!
Seth in Action
You can see Seth in action in one of his three TED talks here.
Seth Godin's Book
You can order your copy of What to do When it's Your Turn (and it's Always Your Turn) right now.

Resources Seth Recommends
Seth Godin Resources
The best place to find out more about Seth is at his super popular blog.
You can also visit his business website.
Follow  on Twitter…@ThisIsSethsBlog.
Be sure to check out this entrepreneurial 15-episode podcast series from Seth called Startup School.
 Leave Us Your Feedback
Comment and Share
Please consider rating the podcast with 5 stars and leaving a one- or two-sentence review in iTunes or on Stitcher.  This helps tremendously in bringing the podcast to the attention of others. I am also mentioning the names of all who rate the podcast with 5 stars in future episodes.
We encourage you to join the Read to Lead Nation on Facebook.  It's a community of like-minded leaders and leader-to-be, as well as fans of the Read to Lead Podcast.
You can tell your friends on Twitter about your love of reading and our new podcast by simply clicking this link and sharing the tweet you'll find at the other end.
And, by all means, if you know someone you think would benefit, please spread the word by using the share buttons below and up top.
Finally, thanks for listening and remember, "Leaders read and readers lead."
Join in on our chat below