I was first introduced to today's guest well over a year ago by former Read to Lead guest Amy Whitaker.
Amy joined us back in episode #134 and, soon after, made the introductions via email. Unfortunately, it was an intro I completely dropped the ball on. Patrick and I exchanged pleasantries, and that's as far as it went.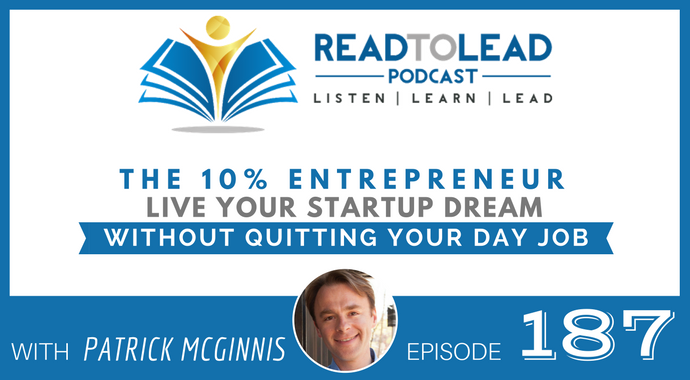 Turns out Patrick and I are both fairly busy, neither of us remembering this introduction until, that is, I was searching my Gmail inbox for some last-minute info I needed to check on before chatting with him.
The moral? Simple. Better late than never. 🙂
Patrick's now 18-month-old-and-still-incredibly-relevant book is called The 10% Entrepreneur: Live Your Startup Dream Without Quitting Your Day Job.
The key, you see, is diversifying your work portfolio, just as you do your financial one (you do that, right?). In The 10% Entrepreneur, Patrick first makes the case for why you need to think like one (Part I of the book), and follows it up with exactly h0w to go about it (Part II of the book).
Want to spread your entrepreneurial wings AND keep the current security of your day job? Click the play button below.
Join in on our chat below
Subscribe: iTunes | Stitcher | RSS

Continue Reading »