My 16th wedding anniversary was last Friday and, apart from some nasty weather Friday afternoon, Annie and I had a wonderful weekend celebrating.
So much so it's put me in a generous mood. 🙂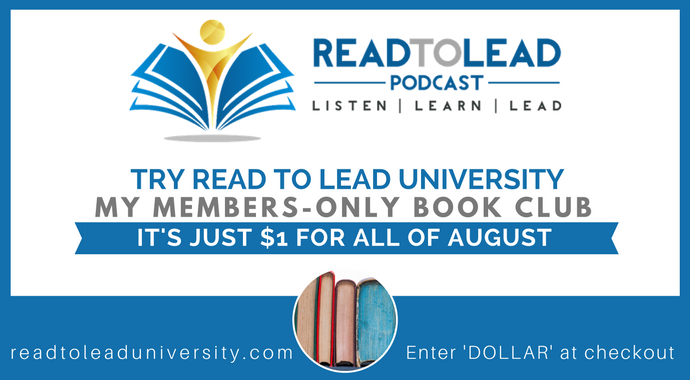 Yesterday wrapped up month six of Read to Lead University. In that time, members and I have read AND met live to discuss these books:
Reach by Andy Molinsky
Deep Work by Cal Newport
12 Week Year by Brian Moran
Pivot by Jenny Blake
The Compelling Communicator by Tim Pollard
Start with Why by Simon Sinek
Get this: Two of the above authors fielded questions about their books submitted by members! AND, two more authors actually joined us for our live book chat!
This component has turned out to be one of our members' favorite aspects of RTLU.
Turns out that, in August, we'll again be joined during our live book chat by the author herself.
Subscribe: iTunes | Stitcher | RSS
Her name is Liz Wiseman, and she's the author of what is probably my favorite leadership book of the last 10 years, Multipliers: How the Best Leaders Make Everyone Smarter.
Because these live chats are so impactful, I wanted to make it as simple as possible for you to experience it for yourself.
So, I'm offering you the chance to try Read to Lead University during the month of August for just $1 (a whopping 96% off)!
This means that:
You'll get immediate access to our private Facebook group for ongoing discussion
You'll receive (mid-month) a copy of our August, magazine-style book summary for Multipliers
You'll receive a members-only invitation to August's live, online book chat where you'll have the chance to not only meet Liz, but pose your own questions to her about leadership, personal growth, and anything else
Attend our members-only "Guest Experts" webinar
PLUS, you'll get immediate access to the recordings of all six of our previous online book chats, all six of our previous book summaries, and a lot more!
But wait! What if you spend 30 days checking things out and decide it's not for you?
No problem. If you're not 100% thrilled with your experience, simply cancel your membership before the end of August. You're only out a buck.
My guess is though, you'll end up having an experience much like these folks:
If you want more meaning, more brain power and more fun in your professional development, you've just found it. – Sherri G.

I'm very glad to be a part of the RTLU book club and highly recommend it to anyone who also loves leadership and reading and wants to connect with others who do as well. – Sovann P.

Since joining, I have found the RtLU community to be welcoming and supportive. The group calls are fantastic, and I've already been able to ask questions of one of our authors! Read to Lead University has been a great investment in ME! – Sara H.
I think it's a no-brainer. If you do too, simply visit this link to register now:
Oh, and here's the thing:
There are only 30 spots open for this trial offer!
I have to limit it to reasonable number, otherwise the influx of new members is too great and prevents me from ensuring everyone is on-boarded effectively (I'm a one-man show). 🙂
Again, if you decide you don't want to stay, you can cancel your membership at any time.
If, however, you love it (and I think you will) then you don't have to do anything at all. Your card will be billed $25 for each month you're a member beyond August. 

By the way, because you've joined my email list, I'm letting you know before anyone else. But act fast because TOMORROW I'll publish an announcement to the Read to Lead podcast feed about this trial offer.
To try Read to Lead University in August for just $1, simply click this link:
If the discount for some reason isn't applied automatically, simply enter the discount code 'DOLLAR' at check out.
I hope you'll join us this month and see for yourself how awesome this tight-knit community truly is. There's virtually no risk to do so. 🙂