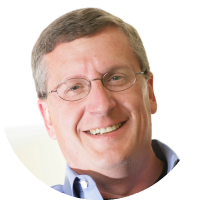 This week's guest is a man who, a week ago, I'd never even heard of (that's one of the awesome benefits to hosting a podcast. I'm always meeting and getting to know new and exciting people).
His name is Chuck Bamford; Dr. Chuck Bamford to be exact. After 12 years in industry, he's spent the last 20 years teaching strategy and entrepreneurship at the graduate,  undergraduate and executive levels. In fact, he has won numerous 'Excellence in Teaching' awards along the way.
The best part is, through his new book The Strategy Mindset, he's here today to help you simplify the concept of strategy. If your company stinks at it, then you'll be happy to know you're not alone. Most companies do according to Chuck.
If developing and executing an effective strategy for your business has had you stumped, you're in for a real treat. To join our conversation, just click the 'play' button below.