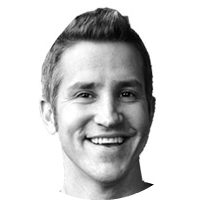 Is it true? Could Do Over, Jon Acuff's new book, indeed be the best book ever written on the topic of careers? Popular author and blogger Seth Godin says it is.
Seth goes on to say, "I'm not even sure what book comes in second. This is practical, human, touching, urgent, vulnerable, universal, actionable truth, all in a well-written, handy package. Go!"
To say that Jon Acuff pee'd a little when he received word Seth would be blurbing his latest book would be a colossal understatement. There were parties, dancing, drinking and, okay, so I don't know all that happened when Jon got the news, but we can assume it was celebratory.
In Do Over, Jon says when you leverage what he calls your Career Savings Account – which is a combination of Relationships + Skills + Character x Hustle – you'll be perfectly positioned to respond to any one of the four major career transitions that come your way: Career Ceiling, Career Bump, Career Jump or Career Opportunity.
So, is this the best career book ever written? Who am I to argue with Seth Godin?